Written for the Minnesota Real Estate Journal by Mary Tingerthal, August 1, 2021
Modular construction isn't new.  What is new, is the increasing number of modern manufacturing facilities that are producing high-quality modules for multi-story commercial buildings.  Why is this happening?  Developers choose modular construction for a variety of reasons, but most often it comes down to these major things:  Speed to Market, Cost Savings and Design Flexibility, Consistent Quality and Quiet Construction Sites.
What is commercial modular construction?  Projects using a commercial full volumetric modular approach are designed so that segments of the building can be fully completed in a climate-controlled facility, then trucked to the construction site and stacked in place with a crane.   Typically, the interiors of the units are completely finished with flooring, cabinets and sometimes even appliances installed in the factory.  Utilities connections are routed to a central unfinished hallway space on each floor; then connections are made and hallways are finished at the construction site.  Readers can find a short video of a modular building being stacked here.
In Minnesota and most states, buildings using commercial modules must meet all of the requirements of the state building code.  State inspectors are responsible for oversight of modular manufacturers to ensure the quality and compliance of the work that is performed in the factory.  Local building officials are responsible for all the work that is performed on site.
Reason #1:  Speed to Market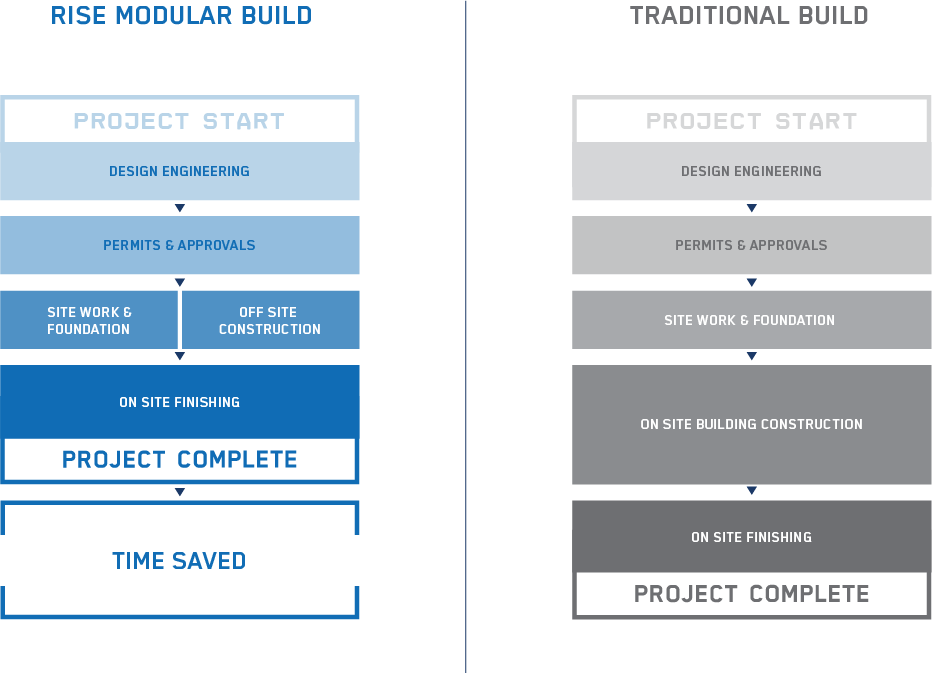 The primary reason many developers are choosing the move to modular construction is that modular can shorten construction timelines by 30 to 50 percent. This substantial time-savings is primarily due to modules being built at an offsite manufacturing facility while sitework and foundation construction activities take place onsite. The interior of individual units are also significantly completed during manufacturing, so the amount of interior work that needs to be performed after modular installation onsite is greatly reduced. 
Marriott International has experienced this advantage first-hand and is actively using financial incentives to encourage their franchisees to embrace modular construction. After performing their own research, Marriott discovered they could reduce construction timelines by three to six months with modular. That meant the company could generate revenue much more quickly versus traditional construction methods. Beginning with their first modular building in 2016, Marriott committed to 31 modular projects across eight of their brands by 2019. Despite the hospitality industry experiencing massive disruption due to COVID-19, Marriott has determined modular to be an ideal fit for 40% of their construction pipeline. 
Reason #2:  Cost Savings and Design Flexibility
Modular construction allows developers to customize building designs that work for the market and their proforma. It offers the flexibility to take full advantage of cost and time efficiencies with each additional project built. Modules can be adapted to many different building footprints – L-shaped, U-shaped and even angles that are not 90 degrees. Exterior walls are prepared to accept any and every exterior finish you choose for any given location, and there is no need to have a flat facade because modules can be installed in offset patterns. 
Research from McKinsey & Company shows that there is the potential for cost savings of up to 20 percent with modular construction. Developers may not see major construction cost savings on their first modular project, but subsequent projects are likely to deliver greater cost savings even with changes in design. 
Reason #3:  Consistent Quality and Quieter Worksites
Having a substantial amount of construction activities completed indoors can have real benefits when working in areas where weather can be severe or extreme. Even storage is often inside so building materials are rarely exposed to the elements. Many manufacturers also complete each module's exterior walls with specified weatherproofing material, and provide a waterproof cover to protect modules until they are delivered to the construction site and secured in place. 
Quality control is also more effective when workers can do their work every day in an indoor environment, and use jigs and equipment that are ergonomically designed. Worker proficiency and efficiency improves simply by making tasks easier to perform. A related benefit of offsite modular construction is developers and general contractors can deliver quieter, less disruptive construction sites that are active for shorter periods of time. This contributes very positively to community/ neighborhood and city relations.